Yoder Smokers YS480s Pellet Grill with ACS on Competition Cart - Stainless shelves
Sold out
Original price
$ 2,589.00
-
Original price
$ 2,589.00
To pre-order, please email us at mike@bourbonbbq.com or call Mike at 201-247-5821 cell.
Ships in 5 to 6 weeks.
For grill pickup from our NJ location, add $230 shipping from KS to our warehouse.
We collect 3.3125% NJ sales tax for all in-house purchases or delivery from our Paterson NJ location.  We do not collect sales tax for direct freight shipping items outside of NJ.
.  5- 20lb bags of pellets with pickup and deliveries at no extra charge.
Shipping directly to your location is available with the rates starting from $299.00. Please email us your Zip code and we will provide you a more precise shipping quote.
ABOUT THE YODER SMOKERS YS480S PELLET GRILL WITH ACS on Competition Cart
Designed with versatility in mind.
Over 800 square inches of cooking space will allow you to smoke, bake, roast, and grill for any crowd
Custom coded microprocessor gives you true set it and forget it usability
Produces more smoke than the competition, from 150º to 300º allowing you to focus on your food
---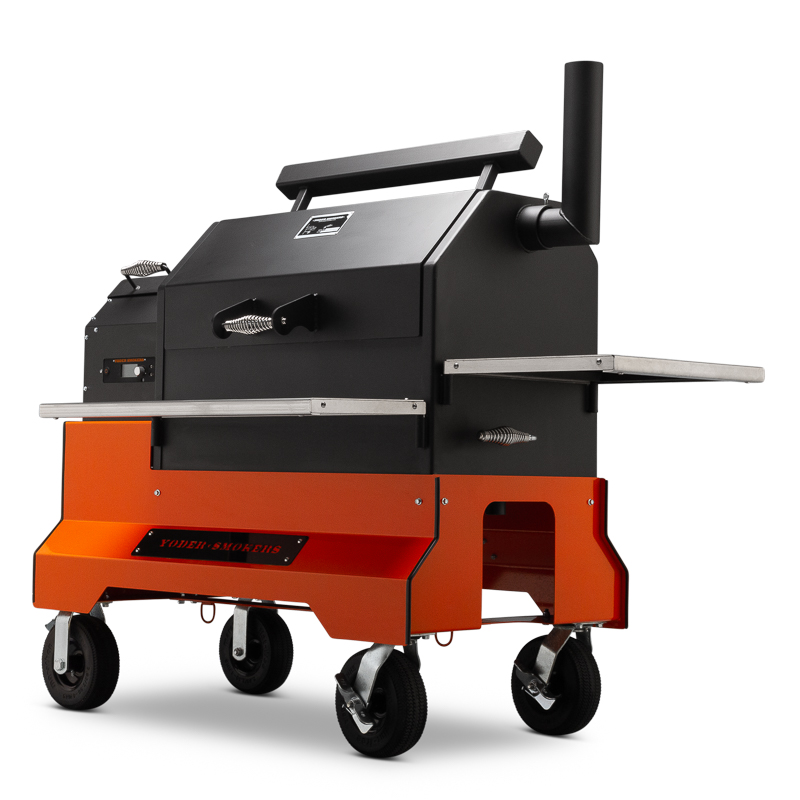 Take Your BBQ on the Road
Ready to take your cooking on the road?
The Yoder Smokers YS480s Pellet Grill on Competition Cart makes light work out of family gatherings, catering events and BBQ competitions.
The foundation of the cart begins with the 8" pneumatic tires for unmatched mobility. Need larger tires? Simply choose 10" pneumatic tires in the options above.
The available stainless steel shelves add extra safe food handling and easy cleanup. When purchasing a model with stainless steel shelves, customers will receive the standard set of wire shelves with stainless steel sleeve for the front and side shelves  Shelves are fully assembled, creating a solid stainless surface.
Finish off your grill with a range of cart colors including black, silver, orange, yellow, purple, black, and more. Talk to our staff about custom colors and stainless steel signage to personalize your YS480.
---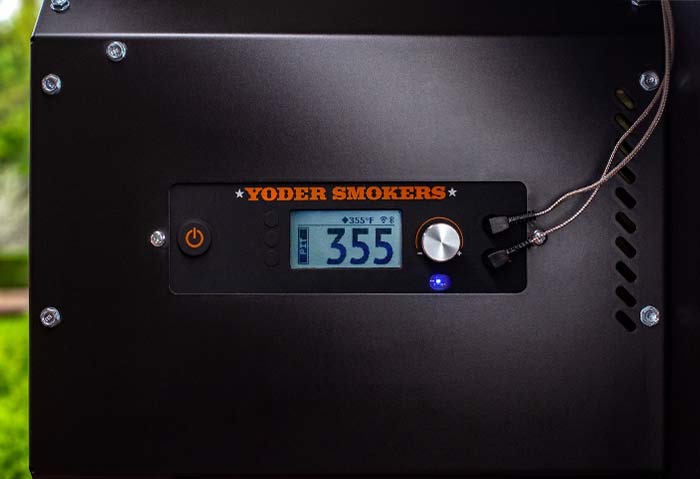 Adaptive Control System (ACS) with Wi-Fi
The Yoder Smokers YS480s features Yoder's next-generation Adaptive Control System with Wi-Fi Connectivity- cloud connectivity powered by FireBoard.
The all-new ACS board connects to both Bluetooth devices and your home Wi-Fi network through the YS Drive App (iOS and Android compatible, download links coming soon). Once connected you can control your grill's temperature, monitor meats with the two included food probes, change cooking programs to hold your grill at a set temp once your meat reaches a desired internal temperature and more.
---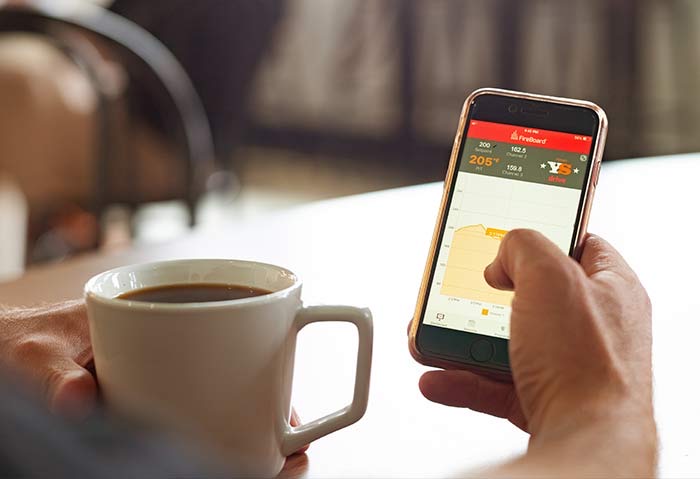 More Than Just Wi-Fi
Beyond Wi-Fi connectivity, the new ACS board is built around a powerful microprocessor that understands multiple input variables.
Simply put? This board is smart enough to react to drastic changes in heat brought on by opening the cooker door, putting on 100 pounds of cold meat, or even changes between pellet burn rates if you change wood type mid-cook. The most intelligent controller on the market is here, and it's only in the S Series Pellet Grills from Yoder Smokers.
---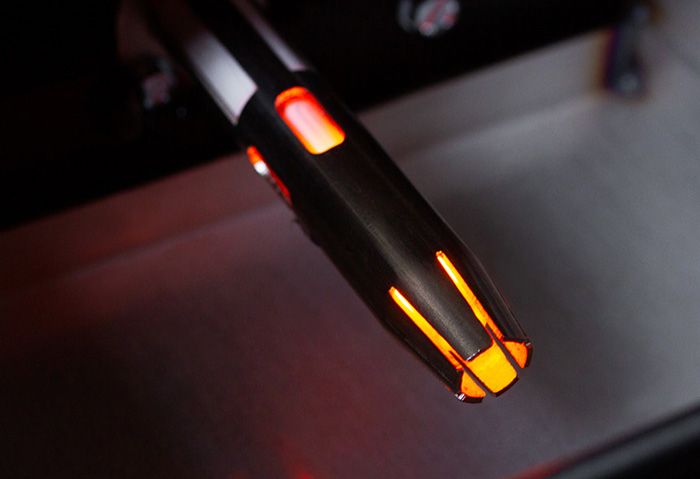 All New Ceramic Igniter
The new ceramic ignition system lasts five times longer than conventional contact igniters. Heats up twice as fast and creates 100% more heat.
Yoder's ignition system lights the pellets with induction heat and solves problems associated with failed ignition. Ceramic ignition system carries a three-year warranty.
---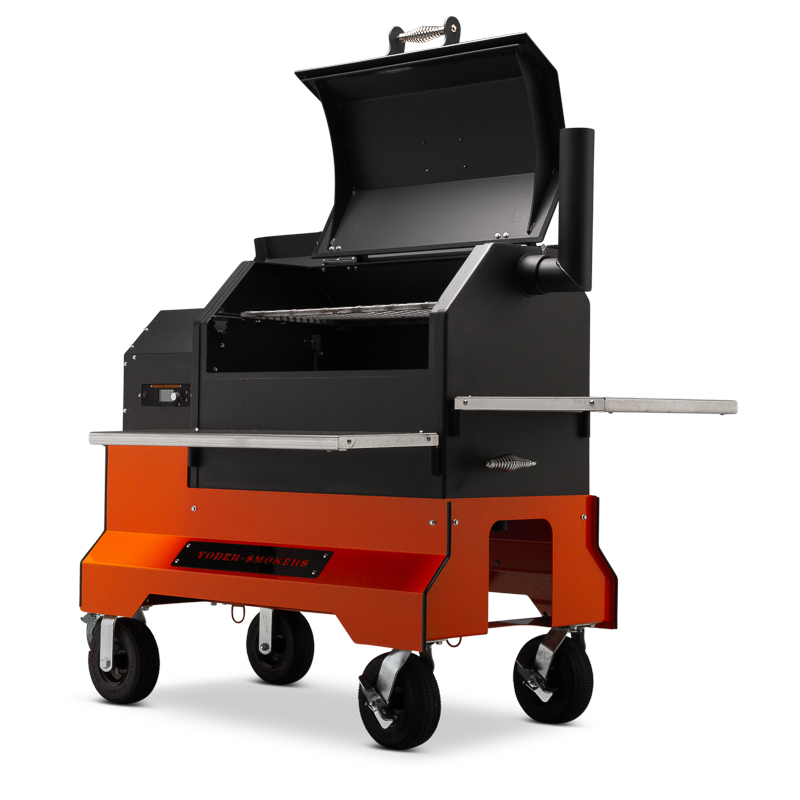 Simple to Operate, Amazing Results
Yoder Smokers S Series Pellet Grills also offer superior quality and taste when used traditionally as a pellet fired smoker.
With second-to-none build craftsmanship, the S Series Pellet Grills help to produce the flavor that only wood fires can produce, all with the ease of "set it and forget it" operation.
---
YODER SMOKERS YS480S PELLET GRILL WITH ACS ON COMPETITION CART FEATURES
---
Made in America's heartland
Competition cart with 8" or 10" pneumatic tires for easy mobility
Advanced Control System with Wi-Fi and Bluetooth Connectivity
Two integrated food probes for a complete picture of your cook
Insulated hopper for safe temperatures
Ceramic igniter for fast and seamless ignition
480 square inches of main grate cooking surface (20" x 24")
The standard 2nd shelf brings total cooking space to 800 square inches
Includes probe port on hopper side
Redesigned high airflow burn grate
150º to 600º in 5º increments
20 pound hopper capacity
10 gauge steel cooking chamber, 14 gauge steel on hopper and cart
Weight: 385lbs
Warranty: 10 years on grill body, 3 years on control system, 3 years on igniter